Have Stubborn Fat? Skinique Can Fix That.
CoolSculpting® & DualSculpting
Say Goodbye to Stubborn Fat
CoolSculpting® is the newest, most innovative, non-surgical way to lose those annoying bumps and bulges of stubborn fat. We all have certain trouble areas where stubborn fat builds up, but now you can visit Skinique Med Spa, the first and most experienced CoolSculpting® in North Fort Worth and Plano and freeze the fat away!
All The Right Curves In All The Right Places
Whether it's your stomach, thighs, or love handles, the CoolSculpting® procedure can help you fit better in your clothes. Proven by millions of procedures performed worldwide, the CoolSculpting® procedure eliminates fat cells safely and effectively, without surgery and with little to no downtime.
The Easy Process
It's all a customized treatment plan to give you the results you want!
Our Promise.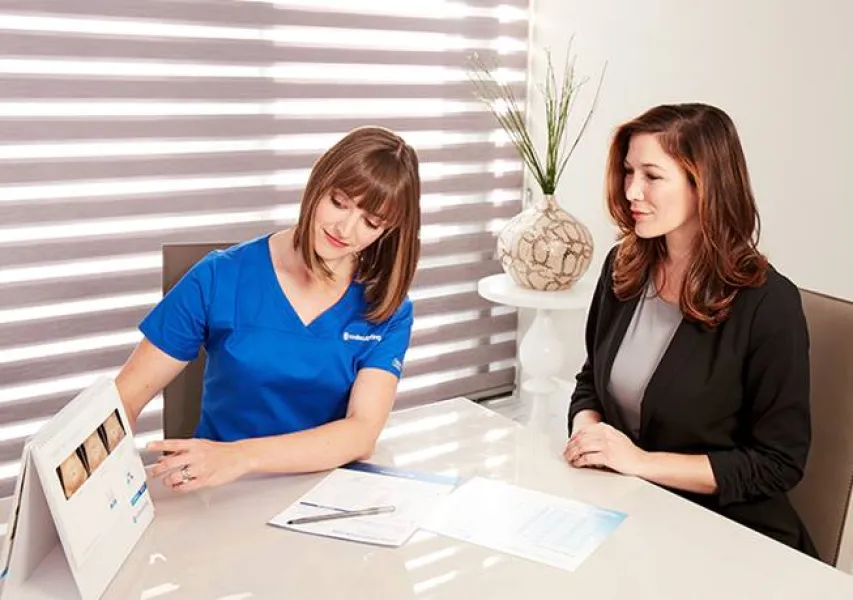 YOUR COOLSCULPTING CONSULTATION

THE FIRST STEP
It's easy to get started in your CoolSculpting journey to a slimmer you.
At Skinique we will take the time to discuss a personalized approach to your goals for reshaping your body. Together, you'll look at your whole body from different angles—and then focus on specific areas where you want to eliminate fat.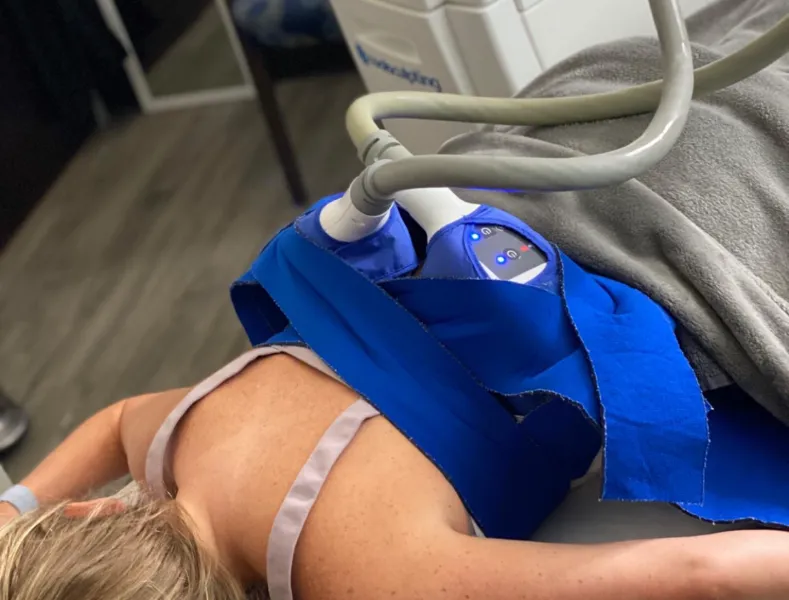 YOUR TREATMENT DAY
NO SURGERY. LITTLE TO NO DOWNTIME
During your treatment, a gel pad and applicator will be applied to the targeted area. The CoolSculpting applicator delivers controlled cooling to the targeted fat. During your procedure, feel free to read, check email, or even take a nap.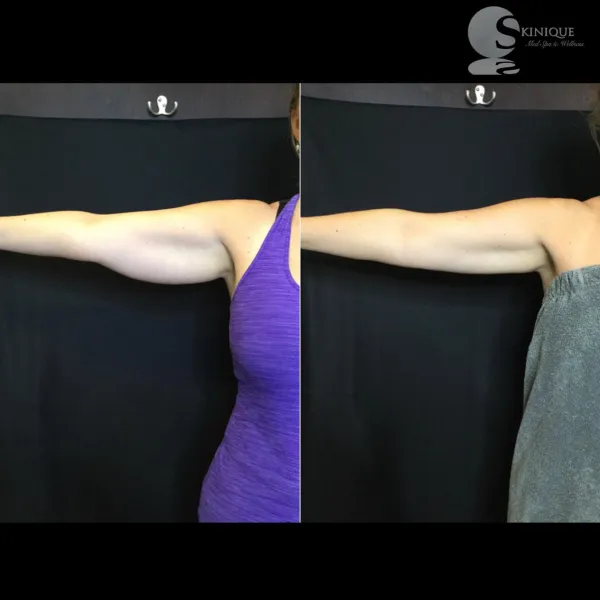 THE RESULT
TREATED FAT CELLS ARE GONE
Those stubborn fat bulges start to disappear, leaving a more sculpted you.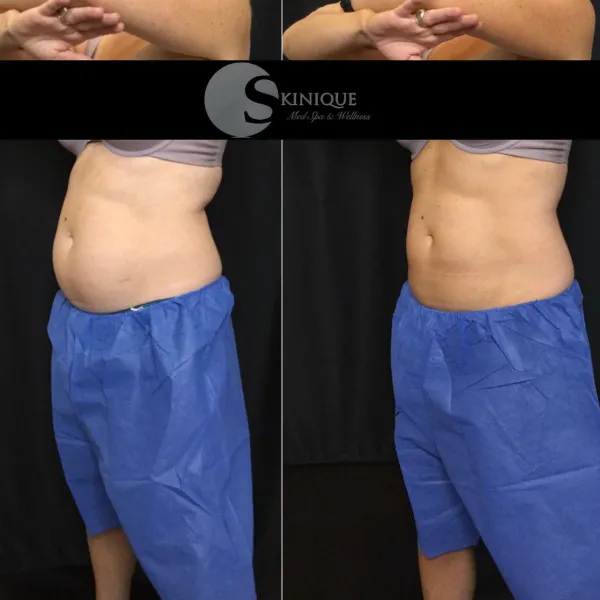 AFTER YOUR TREATMENT

DRAMATIC RESULTS
Most patients can return to their normal activities immediately after the CoolSculpting procedure.
While some patients may see results as early as 3 weeks after their first treatment, the most dramatic results are usually seen between 1 and 3 months following treatment.
Ready to Take the Next Step?
Schedule Your Free Consultation
Am I a Candidate?
Take this short questionnaire to determine if CoolSculpting® is right for you!
How Does CoolSculpting Work?
Developed by Harvard scientists, CoolSculpting is FDA cleared utilizes Cryolipolysis, a technique using cold temperatures to destroy layers of fat cells. The surrounding, healthy tissues are unaffected during the treatment, remaining completely safe. Unlike with diet or exercise where the fat cells are reduced in size, with CoolSculpting, the treated fat cells are frozen, and actually die. Over time, your body naturally metabolizes the fat and eliminates these dead cells, leaving a more sculpted you. Once the treated fat cells are gone, they're gone for good! With CoolSculpting, there are no knives, no suction hoses, no needles, and no scars.
Minimal Downtime & Lasting Results
Unlike a lot of other procedures, CoolSculpting takes very little time and is pretty simple to fit into your daily life. After your CoolSculpting treatment you can typically get right back to your busy day. So you can easily fit your appointment into a lunch break. A session lasts only 60 minutes, making it quite possibly one of the best-used hours of your life!

After one treatment, you'll typically see a noticeable reduction of fat. It takes a few months to fully realize the effects, mainly because it takes that long for your body to naturally dispose of the fat cells. With each session you are able to decrease the number of fat cells in the treated area by 25-35%.

Skinique's CoolSculpting Transformations
Real Patients, Real Results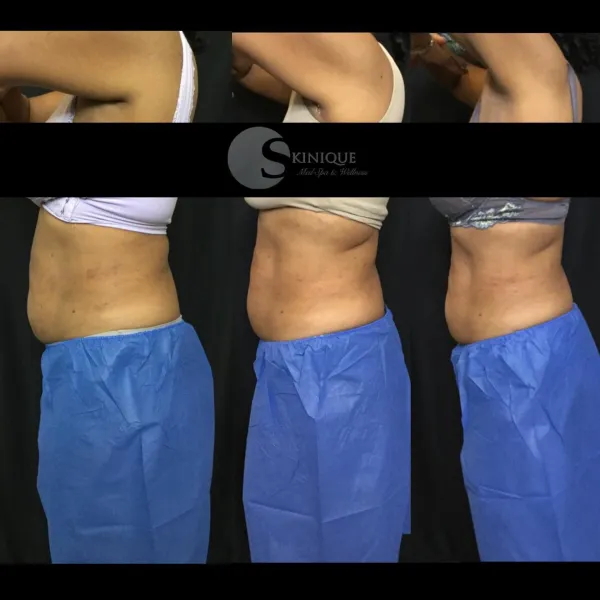 Stomach
CoolSculpting optimal results can be seen after 3 months. Here are our patient's before, her 60 day follow up, and then her 90 day follow up. Her results from just one treatment so far are amazing! The transformation is so satisfying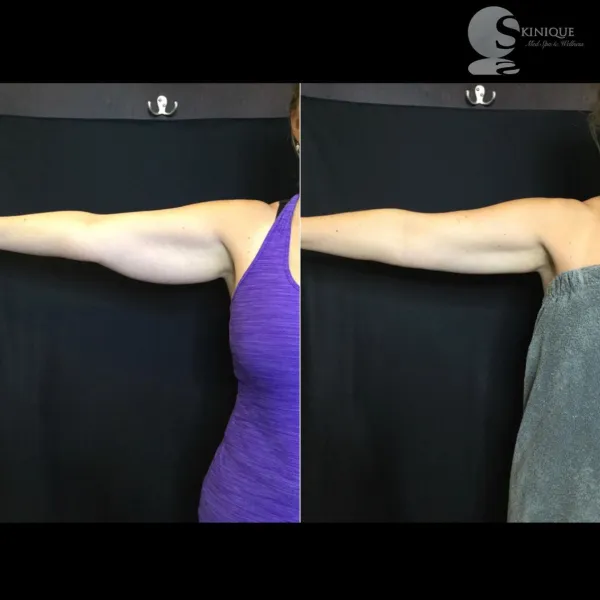 Arms
Wow wow wow! Amazing results with CoolSculpting! 60 day follow up from just ONE treatment on the arms!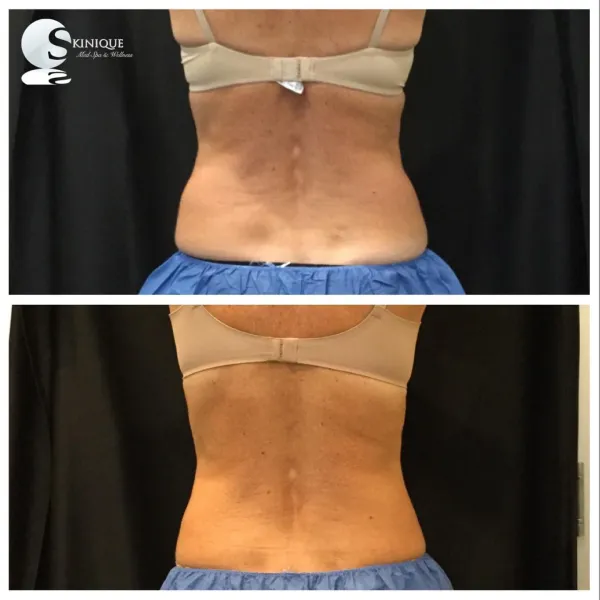 Love Handles
AMAZING PATIENT RESULTS FROM COOLSCULPTING! One session on her flanks aka love handles!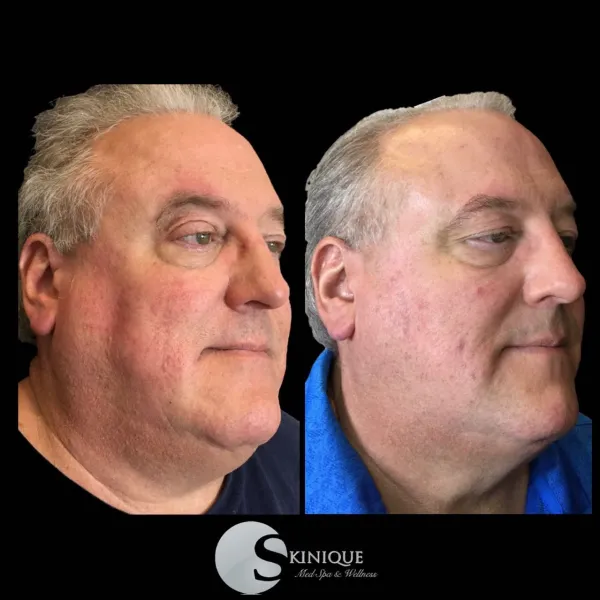 Chin
Wow! Look at this patients 90 day results from just ONE CoolSculpting treatment on his submental (chin) area

Ready to Take the Next Step?
Schedule Your Free Consultation
Q
What does CoolSculpting® feel like?
A
As the cooling begins during the first few minutes, you will feel pressure and intense cold. This soon dissipates. Many people read, watch videos, work on their laptop, or even take a nap during their treatment.
Q
When will I see CoolSculpting® results?
A
You may start to see changes as quickly as four weeks after your treatment, and will experience the most dramatic results after two months, but your body will flush out fat cells and continue doing so for up to four to six months.
Q
What happens when I gain weight down the road?
A
Many people, after seeing the results from their CoolSculpting® procedure, take even better care of themselves. However, if you do gain weight, you may gain it evenly all over your body, not just in the treated areas. You will however have fewer fat cells in your treated areas, so most patients see increased tone in treated areas, even after gaining weight.
Q
How many treatments are necessary?
A
Many see results after just one treatment, but others may need a few to reach their specific goals. A trained member of our staff will work with you to customize an appropriate plan during your initial consultation, in which treatment areas and the number of sessions will be determined.
Q
What are the risks of the procedure?
A
Side effects are minor and rare, and can include temporary discomfort or numbness in the treated areas following the session. A complete list is covered during the consultation with a member of our staff.
Q
Are there any side effects?
A
During the procedure you may experience deep pulling, tugging, pinching, numbness or discomfort. Following the procedure, typical side effects include temporary numbness, redness, swelling, bruising, firmness, tingling, stinging and pain. Rare side effects may also occur. You should not have the CoolSculpting® procedure if you suffer from cryoglobulinemia or paroxysmal cold hemoglobinuria.
Q
What happens to the frozen fat cells?
A
After the fat cells are targeted and frozen, your body naturally and gradually sheds them. They become processed and eliminated on their own over the course of six months. Unlike with diet and exercise, fat cells actually die and are permanently gone from your body with the CoolSculpting® procedure. You'll literally freeze them away and be left with a toned, firm body!
Q
Am I a good candidate?
A
The CoolSculpting® fat reduction procedure is specially designed for those who have unwanted fat that resists diet and exercise. Unlike gastric bypass surgery, the CoolSculpting® procedure is not a weight loss solution for people who are obese. It is, however, a non-surgical alternative to liposuction. Good candidates have noticeable bulges in certain areas they'd like to get rid of.
Q
Can I return to normal activities after my treatment?
A
Yes, you can. The CoolSculpting® procedure is completely non-surgical, so typically you can return to normal activities immediately. Some patients experience redness, minor bruising, tingling, numbness or discomfort in the treated area, but this is temporary and will resolve completely. Often times, patients return to work after their CoolSculpting® session is over.
"CoolSculpting® is FDA-cleared to treat visible fat bulges in 9 areas of the body. Some common side effects include temporary numbness, discomfort, and swelling."