Morpheus8
by INMODE
Stimulate the production of collagen and resurface your skin to discover a younger looking you.
What is Morpheus8?
Morpheus8 is a fractional skin treatment that stimulates collagen production of the underlying layers of the dermis. By targeting the deeper layers of the skin, tissues of the face and body can be remodeled to reveal a more radiant youthful appearance.
What Areas Can Be Treated?
Morpheus8 can be used on any areas that can benefit from resurfacing and subdermal renewal. The most commonly treated areas include the face, periorbital area, abdomen, thighs, legs, and buttocks.
How Does It Work?
Morpheus8 is a fractional device with programmable penetration depth and energy delivery. The coated needles penetrate into the sub-dermal tissue, coagulating the fat and contracting connective tissue. Simultaneously, directional RF energy generates bulk sub-necrotic heat in the dermis.
Learn More About the Morpheus 8 System Body Applicator
Read this manual to become familiar with all safety requirements and operatingprocedures before attempting to operate the System.
Morpheus8 Before & After *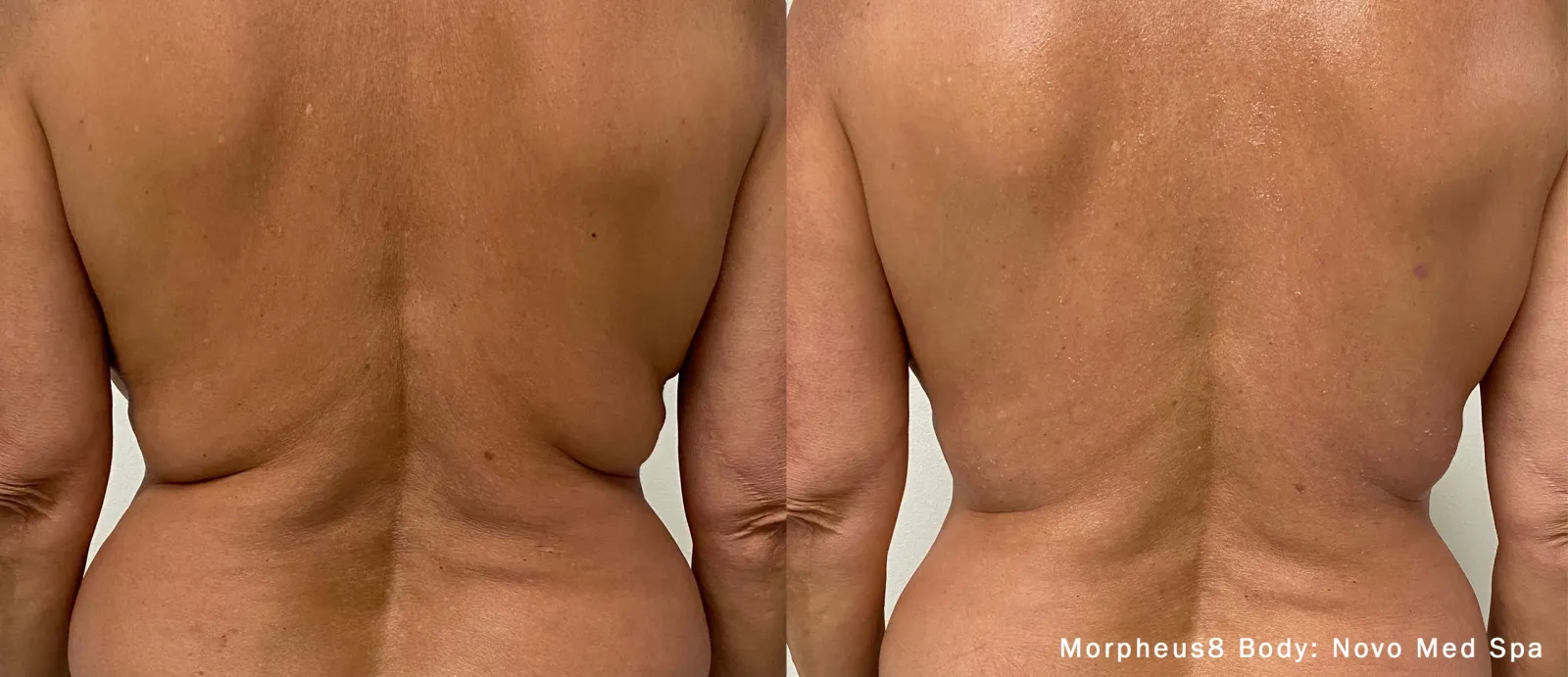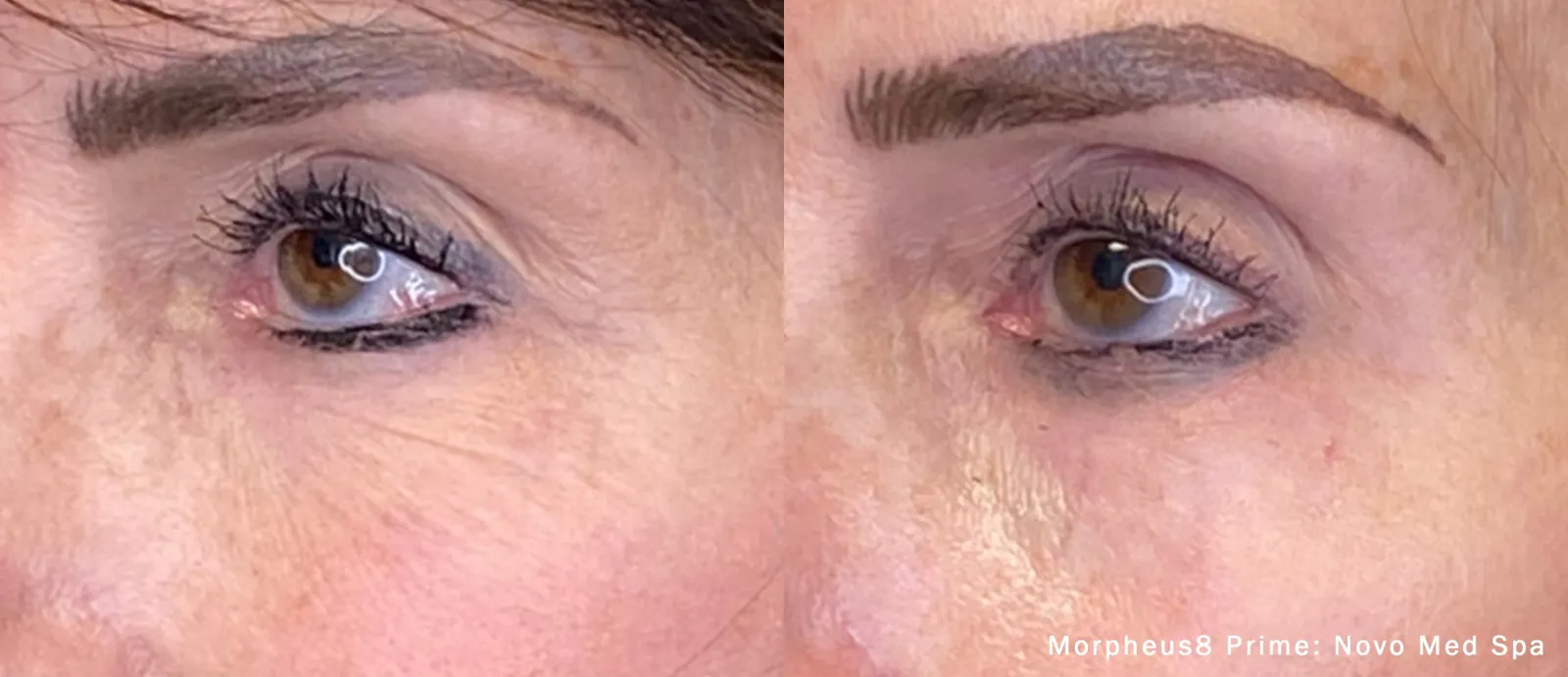 Check out more before & after pictures
Frequently Asked Questions
Q
How many sessions are recommended?
A
Your practitioner will recommend the optimal number of sessions to be performed based on your personal objectives. Treatment times and frequency will be specifically tailored to obtain the optimal results.
Q
How quickly will I see results?
A
Visible results can be seen within a few days, but typically after three weeks the most noticeable results appear. Improvements continue up to three months after treatment.
Q
Can this be used in combination with other treatments?
A
Yes, Morpheus8 can be used in the same treatment session, or a few days after other treatments. Morpheus8 can also be combined with other lnMode energy treatments or injectables to achieve more extensive results.
Q
What is the benefit of fractionated energy?
A
Radiofrequency (RF) energy is a scientifically proven method to remodel and rebuild collagen. It is minimally invasive, using a matrix of micro pins to renew the deeper layers of the skin with almost no patient downtime.
Q
Can anyone use Morpheus8?
A
The benefit of Morpheus8's color blind technology is that it can be used on all skin types. The unique properties allow even darker tones to be treated.
Q
What kind of post procedure care is required?
A
Patients should moisturize the treatment area and avoid direct sun exposure. It is also recommended that patients use a broad spectrum sunscreen every day. In addition to reducing the risk of skin cancer, sunscreens also slow the aging process.
Q
When can I put make-up on after treatment?
A
Since patient downtime is minimal, makeup can be applied 1 to 2 days after the treatment. Patients should expect to see micro lesions a few days after treatment and slight redness depending on treatment parameters.
Case Report: Facial Contouring
Dr. J. Laningham
Case Report: Facial Contouring
Clinical Bulletins
Morpheus8 Excessive sweat
July 2020
Morpheus8 Maintenance
July 2020
Morpheus8 Prime Tip Release
August 2020
Morpheus8 Body Burst
October, 2020
Morpheus8 Body Burst
February 2021
Peer Reviewed Articles
Radiofrequency for Fat Removal and Skin tightening of the Body
Authors: Erez Dayan, MD, Joseph Marte, Spero Theodorou MD
Significant advancements in minimally invasive body contouring have been made over the past 10 years.
Increasingly, patients are seeking minimally invasive methods to tighten skin and remodel adipose tissue. A large treatment gap exists among 3 types of patients: the younger demographic, who desire soft tissue tightening without traditional operations, scars, and downtime; patients with soft tissue laxity who are not "severe enough" to justify an excisional procedure, but not "mild enough" to rely on liposuction with soft tissue contraction alone; and those with recurrent laxity who already underwent the traditional excisional procedure. In these populations, aesthetic surgeons risk undertreating or overtreating with traditional methods.
Radiofrequency Rejuvenation of the "Tweener" Patient: Under, Over, or Through the Skin
Authors: Joanna Kam, MD; Ariel Frost, MD; Jason D. Bloom, MD, FACS
Abstract: The demand for noninvasive facial rejuvenation continues to increase as younger, well-informed patients enter the aesthetic market. We refer to a subset of these patients as "tweeners," those who present with early signs of neck and facial aging, but who have not yet developed changes significant enough to warrant a traditional excisional surgery approach. Many of these patients are in search of a minimally invasive intervention, a bridge in between observation and surgery. The authors describe their experience with radiofrequency (RF) technology as an in-office tool to address the aging face in select patient population. This review also attempts to comprehensively search the existing body of literature to describe the RF technologies and devices available for facial rejuvenation.
The Basic Science of Radiofrequency-Based Devices
Authors: Michael Kreindel and Dr. Stephen Mulholland
Abstract: This chapter outlines the basic science and specific principles of operation for radiofrequency (RF) technologies with a focus on minimally-invasive applications enhancing liposuction procedure. Before discussing the parameters, settings and techniques for radiofrequency-assisted lipolysis (RFAL) and fractional RF subdermal treatment, it is important to understand the fundamentals of the basic science of RF technologies and applications. The chapter accurately describes the physics of the processes occurring during RF-based treatment, and the factors affecting its safe and efficacious outcome. The discussion of RF-based devices will use terminology and definitions provided by FDA guidance for electrosurgical devices.Measurements and computer simulations conducted by the authors to illustrate importance of different parameters for the specific treatments of skin and subcutaneous fat are also presented.
The use of radiofrequency-assisted lipolysis with radiofrequency microneedling in premature jowl and neck laxity following facialplasty
Authors: D. Demesh MD, R. Cristel MD, N. Gandhi MD, E. Kola MS, S. Dayan MD, FACS
Background: A subset of facelift patients have premature redevelopment of skin laxity in the lower face and neck. Many patients seek alternatives to revision facelifts to avoid high risks and costs. Radiofrequency-assisted lipolysis (RFAL) with Radiofrequency (RF) microneedling may be alternative minimally invasive options.
Aesthetic Applications of Radiofrequency: Lymphatic and Perfusion Assessment
Authors: Erez Dayan MD, Spero Theodorou MD, Rod J. Rohrich MD, A. Jay Burns MD
Background: The use of radiofrequency in aesthetics has increased in popularity since the early 2000s. To date, there have been limited studies investigating the effect of thermal energy secondary to radiofrequency treatment. The purpose of this study was to evaluate perfusion and lymphatic assessment tools pre and post bipolar and fractional radiofrequency treatment.
Plume Effect of Fractional Radiofrequency Versus Laser Resurfacing: Considerations in the COVID-19 Pandemic
Authors: Erez Dayan, MD; Spero Theodorou, MD; Bruce Katz MD; Jeffrey S. Dover, MD;
Summary: The COVID‐19 pandemic requires us all to re‐evaluate aesthetic practices to ensure optimal patient safety during elective procedures. Specifically, energy based devices and lasers require special consideration, as they may emit plume which has been shown to contain tissue debris and aerosolized biological materials. Prior studies have shown transmission of viruses and bacteria via plume (i.e., HIV and papillomavirus). The purpose of this study was to evaluate plume characteristics of the Er:YAG resurfacing laser (Sciton; Palo Alto, CA) and compare it to the Morpheus8 fractional radiofrequency device (InMode; Lake Forest, CA).
Multimodal Radiofrequency Application for Lower Face and Neck Laxity
Authors: Erez Dayan, MD; Paolo Rovatti, MD; Sherrell Aston, MD; Christopher T. Chia, MD; Rod Rohrich, MD; Spero Theodorou, MD
Background: Nonexcisional facial skin tightening has long been an elusive goal in aesthetic surgery. The "treatment gap" includes cases who are not "severe" enough for excisions surgery but not "mild" enough for most traditional noninvasive aesthetic modalities. In this retrospective review, we present the largest evaluation to date of radiofrequency (RF) skin tightening technology combination including bipolar RF (FaceTite; InMode) and fractional bipolar RF (Fractora modified to Morpheus8; InMode).
The Use of Radiofrequency in Aesthetic Surgery
Authors: Erez Dayan, MD; A. Jay Burns, MD; Rod J. Rohrich MD; Spero Theodorou, MD
Summary: The use of radiofrequency for soft tissue tightening has increased over the past 10 years. Both minimally invasive and noninvasive devices are frequently in use. This article describes the different types of radiofrequency technology and the current evidence behind their safety and efficacy.
Fractora: Long Term Follow-Up Results of a Fractional Radio Frequency Ablative Treatment of Acne Vulgaris and Related Acne Scars
Dermatology Times
Fractora on Acne by Dr. J. Hellman
Author: Dr. J. Hellman
Fractora Acne Study
Dr. Juidth Hellman
Fractora: Anti-Aging Medical News: Synchronous Fractional Radio- Frequency Ablative and Non-Ablative Treatment for Comprehensive Rejuvenation of Aging Skin
Authours: Spero Theodorou, MD, PPS, New York, NY, USA | R. Stephen Mulholland, MD, FRCS(C), Toronto, Canada | Michael Kreindel, PhD., Invasix Corp, Toronto, Canada
Fractora: A Novel Method for Deep Radio-Frequency Fractional Resurfacing and Total Skin Rejuvenation
Authors: S. Mulholland, M. Kreindel
Fractora: Fractional Ablative Radio-Frequency Resurfacing in Asian and Caucasian Skin
Authors: D. H. Ahn, S. Mulholland, M. Kreindel, M. Paul
A Novel Method for Deep Radiofrequency Fractional Skin Rejuvenation
Fractora: Nonexcisional, Minimally Invasive Rejuvenation of the Neck
Authors: R. Stephen Mulholland, MD, FRCS(C)
Clinics in Plastic Surgery
"I was concerned about my deep lines and drooping jowls and wanted a more defined look. I couldn't be happier with my results and am told I look much younger. I highly recommend Morpheus8."
Lena
Patient
*Results may vary. We are reputable for complete customer satisfaction for completed treatments. Before and after images reflect real results from real patients, although individual results may vary. No treatment is promised to provide permanent results. A guarantee is neither provided nor implied. Statements estimating treatment duration and the number of treatments required are based on the typical experience of our patients, however, individual experiences may vary.