Microneedling
Are you looking to improve the appearance of acne scars, wrinkles or fine lines without the hassle of downtime or recovery? If so, Microneedling might be for you!
At Skinique Med Spa and Wellness in Fort Worth and Plano we offer Microneeding with SkinPen, the first FDA approved Microneedling device to safely plump the skin from below, diminishing the appearance of lines and improving the overall appearance of various skin imperfections.
Enhance the look and feel of your skin today with Microneedling!

What is Microneedling?
Microneedling is a minimally invasive, skin rejuvenation treatment which stimulates the growth of healthy new skin. Throughout the natural aging process, our skin experiences a depletion in extracellular substances, such collagen and elastin, which allows for the formation of wrinkles, fine lines and creases. However, with Microneedling, the formation of healthy new skin arrives full of fresh collagen, providing hydration to the skin and an overall youthful appearance.
At Skinique, we utilize a device known as SkinPen to perform our Microneedling procedures. SkinPen® is a medical grade, state-of-the-art microneedling device designed to reverse years of sun damage, improve the appearance of scars, stretch marks, and hyperpigmentation as well as enhance the overall appearance of aging skin.

How does Microneedling work?
Our SkinPen® allows for controlled induction of the skin's self-repair process by creating thousands of precise micro-injuries in the dermis. As the body responds to these micro-injuries by naturally healing itself, the production of new healthy skin is stimulated, automatically triggering new collagen synthesis, without causing scar tissue formation. The SkinPen is the first FDA approved Microneedling device to safely plump the skin from below, diminishing the appearance of lines and improving the overall appearance of various skin imperfections.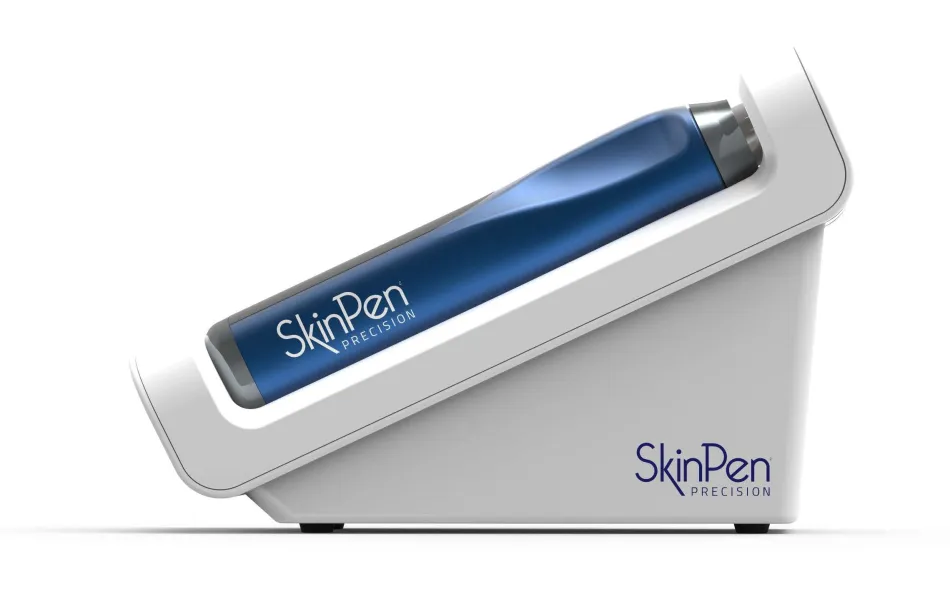 Skin Pen
The First FDA cleared microneedling device
Get Started - what to expect
A plan for optimal results.
A comfortable procedure.
A short procedure time. The treatment will likely take about 30 minutes.
A mild sensation. Most patients report feeling only the slight vibration of SkinPen during the procedure.
Minimal post-procedure effects. The skin will appear slightly pink to red immediately post-procedure, similar to a mild to moderate sunburn.
Soothing aftercare. Your clinician will provide Skinfuse® LIFT, a clean, non-cytotoxic hydrogel used to prevent the skin from drying out post-treatment.
An effective post-procedure protocol. Your provider might recommend an aftercare regimen.
The Procedure
A Microneedling procedure may cause mild discomfort, however, most patients have reported experiencing the sensation of a slight vibration. Patients may also opt to receive a numbing cream on the targeted area of concern, in order to provide for a more comfortable procedure.
Our Microneedling SkinPen allows for a variable depth (.25mm to 2.5mm) and the cordless design provide significant versatility to create change in many areas of the body, including the face, neck, arms, hands, legs, abdomen and back. The actual procedure typically takes 30 minutes depending on the size and number of areas treated and the severity of damage on the skin and results in little to no downtime for the patient.
While multiple sessions are recommended to achieve optimal results, noticeable changes are typically seen just one week following treatment and gradually improve as the body's healing process promotes the production of healthy, new cells and extracellular substances (e.g., collagen, elastin, hyaluronic acid). The results reveal an improvement in the skin for up to six months.
Side Effects

Common side effects may occur post-treatment on the treated areas, however these conditions are generally mild in natural and should resolve naturally within a few days. Such common side effects may include:
Redness
Dryness
Tightness
Itching
Tenderness
Benefits

Diminish the appearance of:
Fine lines and wrinkles
Acne scars
Hyperpigmentation
Stretch marks
Sun damage
Improve skin texture
Suitable for all skin types
Safe: SkinPen is the first FDA approved device for Microneedling
Little or no downtime
Minimally invasive
Quick, in office procedure
Treatment Membership
Only $199 per Month!
Become a member and receive amazing benefits. Choose one treatment every month, PLUS Botox for $11 per unit, $50 off dermal fillers, 20% off CoolSculpting and Laser Services and 10% off all skin care products.

Signature Facial MD
CBD Facial
Rejuvenize Peel

VI Peel
IPL Photofacial
SkinPen Microneedling

Spider Vein Treatment (up to 45 minutes)