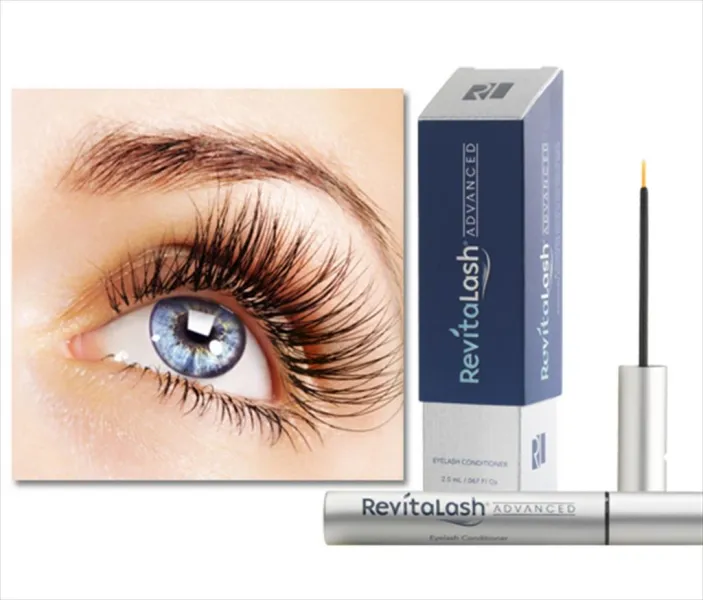 About the company

RevitaLash® Cosmetics was founded in 2006 by Dr. Michael Brinkenhoff. RevitaLash® was developed with a team of cosmetic chemists as a gift for Dr. Brinkenhoff's previously breast cancer-stricken wife, Gayle. Gayle's previously lush lashes were left week and fragile, as a result from her chemotherapy treatments. Within weeks her lashes were once again beautiful and full.
Inspired by love, RevitaLash® Cosmetics has been helping others grow their lashes for over 10 years. With philanthropic endeavors at the heart of the company, RevitaLash® Cosmetics financially supports breast cancer research and educational initiatives.
RevitaLash® Advance is a #1 selling and award-winning formula. Enhances lashes and protects against breakage while improving flexibility and shine for more dramatic lashes.
Key Ingredients
BIOPEPTIN COMPLEX®- Proprietary blend of biotin, green tea extract (rich in panthenol), peptides, and lipids. Helps condition and strengthen brows while defending from breakage and brittleness.
CALENDULA- A natural humectant, which helps the eyebrows retain moisture so that they don't become dry and brittle.
SWERTIA JAPONICA & PANAX GINSENG- Plant extracts high in anti-oxidants and Vitamin B. Helps protect, nourish, and revitalize.
CLAIMS
Hypoallergenic • Non-irritating • Dermatologist Reviewed • Clinically Tested • Not Tested on Animals
How It Works

Concentrated formula. Precision Application.
A proprietary blend of scientifically-advanced technology and natural botanicals join in concert to protect against breakage and brittleness. Improves flexibility, moisture, and shine for bold, beautiful brows.
Unique doe-foot applicator allows for easy, fast and precise application.
Gentlemen can also use RevitaBrow® Advanced to enhance the appearance of sideburns, beards, & goatees.